i-CAT Cone Beam 3D Dental Imaging System

The i-CAT Cone Beam 3D Dental Imaging System allows your orthodontist to provide quick, comfortable, and effective imaging for the most precise orthodontic diagnosis possible. i-CAT technology provides 3D data for:
Orthodontic evaluation and treatment planning
TMJ treatment
Airway assessments and sleep apnea
Full facial and jaw 3D images
Patients can take advantage of a more precise orthodontic treatment with i-CAT imaging. Special features for patients include:
One scan that provides enough data for a complete diagnosis
A safer diagnosis with less radiation than traditional CT scanners
Increased comfort — patients are seated in an open environment with plenty of space
A more cost-effective imaging system
Doctors can easily share the data with patients, so patients stay informed and are able to make educated decisions on their course of treatment
Our office is pleased to offer i-CAT 3D imaging for patients receiving orthodontic treatment. Come and see for yourself what it's like to receive a more advanced, patient-friendly orthodontic experience. Call us today to schedule an appointment.
---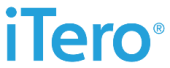 Impression Free, Digital Scans
Canyon Point Orthodontics is able to offer this new technology to our Invisalign patients so that impressions are not needed to get started. Traditional impressions can be unpleasant and sometimes result in taking multiple rounds of impressions in order to achieve the accuracy needed for fabrication of Invisalign aligners. The iTero® scanner ensures a more accurate impression from the start and thus allows for a more comfortable patient experience and faster aligner delivery. The iTero® scanner digitally captures the structure of the teeth and gums using the latest optical technology. The scanner is a compact, hand-held wand. Once we begin the scanning process, it can be stopped and started as many times as necessary.
Example of scan taken with iTero® scanner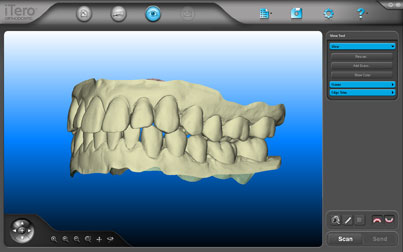 How Does it Work? What are the benefits?
Your mouth is scanned with a radition-free laser and in as little as 15 minutes renders a digitally perfect, 3-D impression of your teeth and soft tissue structures. Through digital software you'll then be able to follow the progress of the scans including a three-dimenional model of your teeth on our computer screen.
Eliminates Traditional Impressions
Superior Accuracy- no distortion from patient movement during set, removal of impression, or disinfection
Faster Delivery of Aligners- scan is sent directly to Invisalign rather than having to wait for mail to pick up and deliver impressions
On-Screen Visualization- allows for adjustment to create an ideal orthodontic scan the first time
Increased Patient Comfort- eliminates the goop and gagging of traditional impressions
---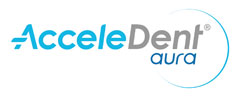 Smile Faster!
You want to improve the look of your smile, but does the thought of spending years in braces seem out of reach? With AcceleDent Aura, you can now speed your tooth movement by up to 50%! Using this fast, safe, and easy-to-use appliance, you'll be finished with your orthodontic treatment and achieve your desired smile faster!
It's Fast.
AcceleDent Aura is a lightweight, comfortable, and hands-free appliance that is used 20 minutes per day as a complement to orthodontics. The exclusive SoftPulse Technology's® precisely-calibrated micropulses gently accelerate the movement of your teeth as guided by your orthodontics.
It's Gentle.
With patented SoftPulse Technology, AcceleDent Aura's vibration is a safe approach for accelerating tooth movement. In fact, the force applied to teeth during ordinary chewing is at least 200x greater than the force applied with AcceleDent Aura.
It's Safe and Reliable.
AcceleDent Aura is safe as demonstrated in U.S. clinical trials. AcceleDent has been prescribed to thousands of patients worldwide since its introduction in 2009. Cleared by the United States Food and Drug Administration, AcceleDent is only available by prescription from your orthodontist.
AcceleDent Aura will make you smile!
Achieve your beautiful, desired smile – faster!
Accelerate your orthodontic experience without sacrificing aesthetics.
AcceleDent is lightweight and comfortable. You may even forget you're using it!
AcceleDent can be used for patients of all ages, including children, teens, and adults.