October 5th, 2016
While everyone knows that October is when we celebrate Halloween, not everyone knows that October is also National Orthodontic Health Month in the United States. This annual observance is sponsored by our friends at the National Association of Orthodontists and it's designed to raise awareness of the importance of good orthodontic health. Throughout the month of October orthodontists, dentists and other healthcare providers will be stressing how important it is to have a healthy, straight smile. National Orthodontic Health Month also aims to recognize the dedicated work of the country's orthodontists and other dental professionals.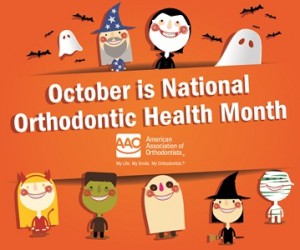 GOOD ORAL HYGIENE LEADS TO A LIFE-LONG, HEALTHY SMILE
Our Golden orthodontist, Dr. Shearer, along with the Canyon Point Crew will be observing National Orthodontic Health Month by stressing how important good orthodontic health is. We will also be reminding people of the importance of maintaining good oral hygiene. Practicing good oral hygiene is important for everyone, however, it's critical if you're wearing braces because food particles and plaque are more difficult to remove from around, under, and between the brackets & wires that make up your braces.
AVOID THESE GHOULISH HALLOWEEN TREATS THAT CAN BREAK YOUR BRACES
It's probably no coincidence that National Orthodontic Health Month takes place when America is celebrating Halloween. This is when more candies and sweet treats are consumed than at any other time of the year. When you had your braces put on, we told you that you must avoid eating certain types of foods that can damage or break your braces like gooey, sticky, hard, and crunchy foods. So when you're celebrating Halloween this year, steer clear of those chewy candy bars, caramel & candy apples, jelly beans and any other treats that can damage your braces.
BRACES-FRIENDLY HALLOWEEN GOODIES
There are many treats you can enjoy this Halloween without worrying you'll harm your braces including:
Soft chocolates that melt in your mouth
Soft peanut butter cups
Pudding
Yogurt
Popsicles
Jello
Soft fruits
Cupcakes
Milkshakes
Just remember to brush and floss your teeth after indulging to avoid getting cavities! We recommend taking a toothbrush and floss along with you when you'll be away from home for long periods of time so you can step into a bathroom to brush and floss your teeth after eating. Hoping you have a safe, fun, and happy Halloween!