September 6th, 2016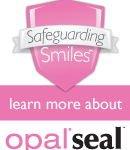 What is Opal Seal and How Does it Work?
Just as the name implies, Opal Seal acts as a sealant or barrier between the enamel on your teeth and harmful plaque by completely covering the surface of your teeth. It provides your teeth with fluoride which is an essential mineral needed to preserve healthy tooth enamel.
Opal Seal helps to counteract the buildup of plaque on your teeth to prevent decay while you're wearing braces. This sealant is applied in a thin layer to the surface of your teeth wherein it slowly releases fluoride to keep your tooth enamel healthy.
At Canyon Point Orthodontics, we not only want your teeth looking and functioning great after you get your braces off, but we also want them to be healthy. Once you get your braces on, we'll instruct you how to properly brush and floss. We will also encourage you to maintain regular dental checkups and cleanings during your orthodontic treatment. But our Canyon Point Crew goes above and beyond that by offering to apply Opal Seal to your teeth before we put your braces on.
Prevents Decalcification

Along with your good oral hygiene routine, Opal Seal will help prevent decalcification.When you're wearing braces, white areas can appear on your teeth around your brackets which is a sign of decalcification. And if these white spots are left untreated, it can easily lead to tooth decay. When Opal Seal is applied to your teeth before we put your braces on, it helps protect your teeth from decalcification, but good oral hygiene is the main key in preventing these white spots! This sealant is BPA-free and safe for every patient. Opal Seal lasts for months and can easily be reapplied as necessary.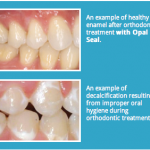 If you have any questions about Opal Seal, check out the video link below and please don't hesitate to contact us as we're always happy to speak with you!