We are a Certified Invisalign Teen Provider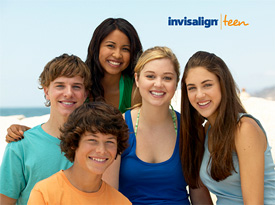 Let's face it! Some teens are not super excited about wearing braces, but Invisalign Teen is quickly becoming a great treatment alternative to braces. By using clear aligners, your orthodontic treatment becomes virtually invisible. You can show off your straightening smile, eat the foods you want, and brush and floss exactly the same way. Your teen can still do the things they love!
Why would you consider Invisalign Teen?
No mouth full of metal may make a happier teen
The aligners are more comfortable as there are no pokey, sharp ends or pieces
You can eat and drink what you want, no food restrictions
You can brush and floss the exact same way
There is no interference with extracurricular activities like sports or instruments
Appointments are typically quicker than with braces
Virtually eliminates all emergency appointments
How Exactly Does it Work?
This system utilizes new technology along with traditional orthodontic principles in order to create the perfect smile. Every patient still has an individual treatment plan devised by Dr. Shearer depending on your orthodontic case. Each set of aligners will be worn for about two weeks, an average of 22 hours per day, and will slowly move your teeth into the desired position determined by Dr. Shearer.
It's your life; keep it that way!
Adolescence is an important, often insecure, time in anyone's life. Some teens dread the thought of having visible braces. That is why Canyon Point Orthodontics offers Invisalign Teen – it is an effective orthodontic treatment in a discreet manner so that you are more comfortable and less self-conscious, proudly smiling in photographs and around friends!
See What Other Teens Are Saying:
Connect with other teens to share your Invisalign Teen experience and find out what other people have to say about their treatment.